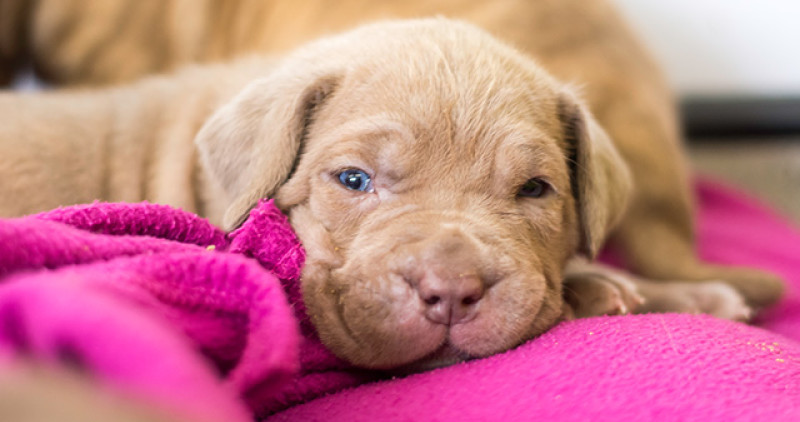 Getting a puppy: what you need to know
We want to help people find the right puppy for them, so more pets stay well cared for and in loving homes for life.
Puppies can make a wonderful addition to the family, but they take a lot of hard work, dedication and training to become a well-rounded adult. Make sure you have the time and patience for a puppy. If you think an older dog would suit you better, read our guide to getting an older dog.
Also, read our guide on what to think about before you get a dog to find out more about your duties as a pet owner and the costs of getting a puppy.
It's important not to rush your decision to get a puppy or your search for one. Here are some tips on how to make an informed choice.
Adopt a puppy from Woodgreen
Dogs are put into our care every day, including puppies from eight weeks old. Apply to adopt a dog here. We receive many requests for puppies, but if we're able to match a puppy with you, then Woodgreen will:
provide a full character and health assessment
provide age-appropriate neutering
vaccinate your puppy
treat the puppy for fleas and worms before you take it home
give you information and the paperwork about your puppy
give you support and advice throughout your puppy's life.
Woodgreen are a member of the Association of Dogs and Cats Homes members website. You can find other dog rehoming organisations there, as well as on the Kennel Club's 'Find a Rescue Dog website.
Buy a puppy from a reputable source
Buy your puppy from a knowledgeable, reputable breeder or organization to make sure they're happy and healthy. Use the Kennel Club's 'Find a puppy' search to find registered breeders. Ideally, you want a Kennel Club Assured Breeder who's committed to a scheme for responsible breeding. They will give you a record of the puppy's birth and lineage, and will have been thoroughly checked by the Kennel Club.
From the 6 April 2020, Lucy's Law came into practice, which bans the third-party selling of puppies under 6-months old.
Under The Animal Welfare (Licensing of Activities Involving Animals) England Regulations 2018, professional dog breeders need a license. So when you approach a breeder or organisation, check:
they have a license – they should display their licence number on their advert or website
the licence expiry date – contact the local authority if you're worried
the star rating on their licence to get an idea of their welfare standards and performance.
Scotland, Northern Ireland and Wales have their own regulations, so make sure you research them if you're getting a dog in those areas.
Find a genuine seller or breeder
Genuine sellers and breeders know all about their dog breed. Don't be afraid to ask questions – they will be happy to tell you what you need to know. Genuine sellers or breeders will also:
be keen to meet you and ask you plenty of questions
often not want or expect you to take the puppy on the first meeting
be happy for you to visit the puppy several times before you take it home
show you where the puppy was born
let you meet the mother and the rest of the litter
provide all the relevant paperwork and health records
be happy to sign a Puppy Contract with all the details about the puppy, its history and health.
Warning signs
There are various signs that can help you decide if the seller or breeder is not responsible and trustworthy. For example, if:
an advertiser says they can get you any breed or sells several different breeds – the dogs may be from puppy farms
advertisers seem to have puppies constantly for sale
multiple adverts have the same mobile number or description of the puppy – google the information to see if it's been used in lots of adverts
a seller is reluctant to give out their contact information
a seller wants to meet at unusual times or places – like a car park or lay-by
a seller is reluctant to let you meet the puppy's mother or says she's at the vet or on a walk
a seller says a health issue like snoring or back problems is "normal for the breed"
a seller doesn't have the puppy's paperwork available or says they will post it on to you
a seller is reluctant to show you where the puppies were born
puppies are being advertised as having a passport – they may have been imported
popular breeds are advertised at an unusually low price
puppies are being advertised as vaccinated at four weeks old or less – puppies can't be vaccinated before the age of four weeks.
Beware buying online
Be extremely careful who you buy from. There are people are genuinely trying to find their puppies loving new homes, but many others are not. Some advertisers are less honest, and are just looking to make money.
Buying online increases the risk of buying from a puppy farm. Puppies from puppy farms often have severe mental and physical problems because they're bred for profit not health or temperament. The puppies are often taken away from their mother too early and haven't really been socialised. This can lead to behavioural problems later in life.
There are also many internet scams. For example, people asking for money for couriers or deposits upfront when you haven't yet seen the dog – which might not even exist. So check all the details thoroughly, and do not part with any money until you have your puppy and its paperwork.
If you're going to use the internet to help you find a puppy, look for websites that follow the Defra-endorsed minimum standards set by the Pet Advertising Advisory Group. These include:
If you see an advert from an "Assured Breeder" in a newspaper or on a website, search for their name on the Kennel Club database. You need to check they're a registered breeder before you do anything else.
How to check a puppy
Make sure you get a healthy, happy puppy. Look out for:
if it's in a place it was born – if it's not, this is often a sign the puppy was born in poor conditions
where it lives is suitable and clean, with things like food and water bowls, bedding and toys
for 'fake' mothers – look for signs the mother has given birth, like enlarged mammary glands, and make sure she isn't ignoring the puppies as this can show she's not their mum
how it interacts with its mother and the rest of the litter – for example if it's nervous and withdrawn it may be like that with other animals when you take it home
it appears alert and healthy – for example, look for:
active, friendly behaviour – they shouldn't be afraid
clean, clear and bright eyes
clean ears
clean, dry bottom
cold, clean, slightly wet nose
clean, dry skin and a soft, shiny, flea-free coat
clean white teeth and pink gums
any problems like laboured breathing, limping or visible ribs
its medical records, including the vaccination certificate and flea and worming treatment record – ask the seller or breeder for them
all the paperwork to confirm the breeder or seller is the right person to pass the puppy to you
it's old enough to leave its mother – at least eight weeks old.
You don't have to decide to take the puppy there and then. If you have concerns, say you have other dogs to meet before you decide. If you're worried about the puppy's health it's best to look for another puppy.
What to ask a dog breeder or seller
Take this list of questions with you when you go to see a puppy, so you can get all the information you need:
Can I see the puppy with its mum?
How old is the puppy?
Is the puppy fully weaned (they can eat food other than the mother's milk)?
How old is the mum? How many litters has she had? What is her temperament like?
Who is the puppy's dad? Can I contact his owner to find out more about him?
Is the puppy healthy? Has it had its vaccinations? When is the next dose due? Can I see the records?
Has the puppy been wormed? When is the next dose due? Can I see the records?
Is the puppy microchipped? By law, the breeder must microchip puppies before they turn eight weeks old.
What is the puppy being fed? Is there a diet guide available?
What socialisation and experiences has the puppy had so far?
Is the puppy pedigree? If so, is it registered with the Kennel Club? Can I see the paperwork?
Can I return the puppy if it has any health problems?
If you need help, get in touch
If you have any questions about getting a puppy, who to buy from, or the information you've been given about a puppy, contact us. We're here to help. For extra information about getting a puppy, go to:
Thanks for your rating
Could this article be improved?